Do you like this game?



Idle Coffee Business





Category: Strategy
Description: Idle Coffee Business is a fun point and click game where you are the new manager of a small coffee shop located inside the city. Try and grow your coffee shop into a multimillion dollar business. Serve a variety of different coffee roasts to your customers in order to earn money. You can then wisely invest the profits by hiring extra employees or buying new types of coffee to keep your customers happy. Try and generate as much money as possible in this exciting idle game.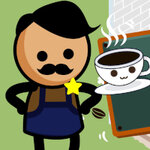 Mouse: Interact