Do you like this game?



Stick Soccer 3D





Category: Sports
Description: Stick Soccer 3D is a 3D sports game where you get to show off your soccer skills as you try and lead your team to victory in the most famous soccer tournament in the world. Score more goals than your opponent to win each match as you try and win the tournament.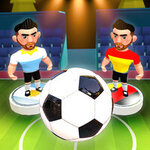 Mouse: Click and Drag to Aim / Release to Shoot.