Do you like this game?



Shopping Cart Hero HD





Category: Action
Description: Shopping Cart Hero HD is a fun stickman game where you hop in your shopping cart and launch yourself down a hill. Race your cart over various jumps while you try and perform some sick and awesome tricks as you fly through the air.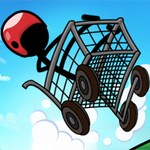 Space: Choose Power
Left / Right: Spin
1-5: Perform a Trick